HTML5 GAME BULLET FURY
Description:
3D first person shooting game for desktop and mobile. Play as an elite soldier and eliminate all enemy troops in the area.
Controls:
Desktop: Arrow keys or W,A,S,D to move the character. Mouse to turn the character, aim and shoot.
Mobile: Use on-screen joystick to move, fire button to shoot, tap and drag on right side of the screen to aim and turn the character.
Size:
800 x 450 (resizable)
Revenue share:
https://gamemonetize.com/bullet-fury-game
https://gamedistribution.com/games/bullet-fury
iFrame code:
<iframe src="https://1000webgames.com/games/bulletfury/html5/" frameborder="0" width="800" height="450" scrolling="no" allowfullscreen></iframe>
Download:
https://1000webgames.com/games/bulletfury/html5.zip
Images:


100x100


120x90


160x120


180x135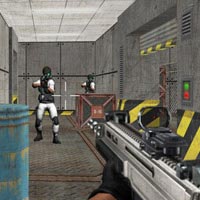 200x200